Denton County offices have room to grow in the new 42,000 square-foot facility where residents can conveniently access county services. Offices for County Clerk, Tax Office, Constable, Justice of the Peace, Community Supervision and Corrections, Veterans Services, Department of Public Safety, and Precinct 3 County Commissioner are included in the space. The building features a grand front porch wrapped in cast stone and arched windows along a colonnade.
ATMAC installed the HVAC system for the LEED Gold-designed facility, increasing the energy conservation beyond those typically seen in commercial application. The facility earned LEED points by increasing energy efficiency with the HVAC system 30% over the minimum ASHRAE/IESNA standards, installing separate zone controls at every change in solar exposure as well as individual zone for all interior spaces.
Call 214-428-1544 for more details about this project.
For more details about this project, contact:
ATMAC
Business Development Manager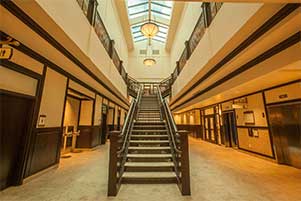 Denton County Precinct 3 Government Center
Oct 2015 - Jun 2016
$1,187,000

Download Case Study