Wylie High School's new 7,000 sq ft culinary arts wing includes a state-of-the-art kitchen and "The 544," a student-run restaurant. Both facilities are new additions to the 18-year-old campus, part of Wylie Independent School District, and are products of a district-wide improvement plan funded by a local 2014 bond package. These innovative learning spaces are designed to complement each other and provide flexible training areas where students can practice and perfect their culinary skills.
The culinary arts kitchen can accommodate up to 25 students and contains a specialized teacher demonstration suite, as well as multiple ovens, stoves, griddles, and exhaust hoods for classroom use. The 544 restaurant can seat up to 60 people in the main dining area, with additional outdoor seating available, and features an integrated production kitchen area. The restaurant will also be used for special dining events, with future plans to expand the program to include dine-in lunch options and specialty coffee drinks for faculty and staff.
ATMAC technicians installed a complete plumbing system for the new culinary arts wing. HVAC services included the installation of grease hoods and exhaust system for the culinary classrooms and restaurant spaces, and the replacement of major chilled/heating water air handling units with AAON rooftop units.
For more details about this project, give us a call.
For more details about this project, contact:
ATMAC
Business Development Manager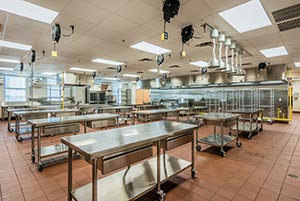 Wylie
May- Dec. 2015
$882,000

Download Case Study