From the beginning, the administration at Church of the Incarnation wanted new additions to feel as familiar as the current building. The gothic architecture and attention to finish details succeed in blending the old with the new. The new facility includes a three hundred seat chapel, a three-story education wing, and a large, gathering space with a new front entry.
ATMAC installed the complete plumbing system in the 60,000 sq ft expansion, including sewer and plumbing fixtures for restrooms and several small kitchens.
"All members of the project team provided key input for delivering a project that reflected the owner's desires," says Jordan Wallace, project manager for Lee Lewis Construction Inc. "The architect was able to illustrate the owner's ideas and then work closely with Lee Lewis Construction for fundamental construction methods and constructibility."
Call 214-428-1544 for more details about this project.
For more details about this project, contact:
ATMAC
Business Development Manager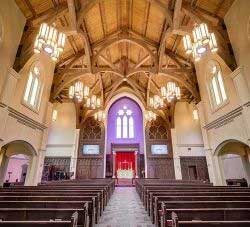 Church of the Incarnation
Mar 2014 - Dec 2015
$440,000

Download Case Study